Part Number: 2-7900-037
---
---
Features and Benefits:
Rack mountable with a highly configurable design
USB included in every unit for simple connection with a PC
High contrast OLED display with 180° viewing angle
Selectable units of measurement (Torr, mbar, Pascal)
Bootloader for field upgradeable firmware
Gas conversion functions included for nitrogen/air, argon, hydrogen, helium, neon, krypton, and carbon dioxide
Analog outputs (0 to 10 V DC) for every connected passive vacuum gauge
User-configurable analog output ranges
Excellent customer support
NIST traceable calibration optional
DHCP enable or disable with programmable IP address
Status LEDs for network/module status/port data activity
10/100 Mbit, half or full duplex port operation
Secure web access for network and unit data and settings
---
The Televac® MX200 EthernetIP vacuum controller (also called a vacuum control unit or vacuum pressure controller) can be connected to up to 10 Televac® passive vacuum gauges including cold cathode gauges, convection gauges, diaphragm gauges, and thermocouple vacuum gauges. It also includes 0 to 10 V DC analog outputs for each vacuum gauge connected to the vacuum controller, EthernetIP/USB digital communications for simple integration with a PC or PLC, and up to 8 optional set point relays to act as a vacuum pressure controller for process control in your vacuum system.
The MX200 vacuum controller's user interface includes six touch controls and a high contrast, 180° viewing angle OLED display, which shows measurements from up to 8 connected vacuum gauges simultaneously along with the selected units of measurement and the status of set point relays. This vacuum control unit supports multiple gas types including nitrogen/air, argon, hydrogen, helium, neon, krypton, and carbon dioxide. The MX200 vacuum controller is a modular unit, allowing you to choose a vacuum sensing solution specific to your needs.
Looking for a smaller, scaled down version of this vacuum controller? Check out the MC300. Need a vacuum controller with an analog display? Check out the Compact 2A.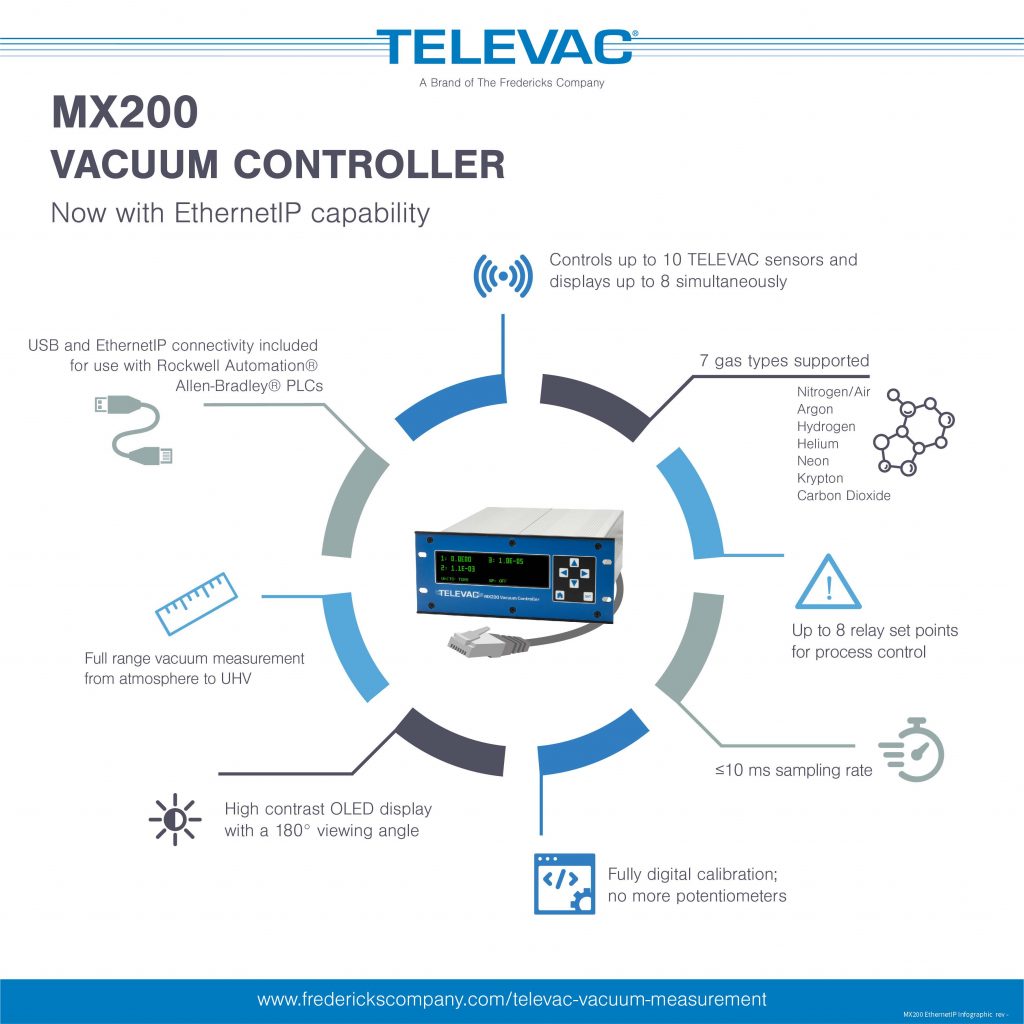 CompactLogix™ is a registered trademark of Rockwell Automation, Inc. All other trademarks are the property of their respective owners.